Remember when there were 'Beach Girl Quests' at Glenelg, Brighton and Semaphore beaches during summer?
Below is a photo from the 1954 Beach Girl Quest at the bay which attracted a crowd of some 25,000 people! Entrants to the quest were judged on more than just beauty, according to the organisers, but also on poise, charm, deportment, manner, diction and open air sports activities.
At that time it was quite acceptable to judge women on their beauty, looks and figure, something that would be severely frowned upon these days. The quests back then though were very popular and ran for many years, from the late 40s through to the 70s, attracting thousands of people to the beach.
Jane Reilly, probably Adelaide's best known beach girl commented recently on the ABC;  "We were celebrating freedom. We had the pill. We were celebrating new music, new fashion, and I think we were probably naive about parading our bodies. It was like almost a reverse part of the women's movement that we were women proud of our bodies and we can wear these little bikinis, get out there and enjoy life and show our bodies off.
Jane explained "I was selected as Miss Asia Australia, which took me off to Manila, and I was there for more than three months, got to meet President Marcos, met people from all over the world, and I think that really boosted my confidence. At the same time, I was still doing my studies at teachers' college and ended up qualifying at the right time, so I had my hands full. But it was an incredible time".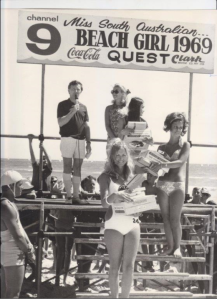 TV presenter Mike Drewer spoke about his role as compere of the Beach Girl Quests back then; "In 1970. I was a news reporter at Channel 9 and asked to emcee it. So I was thrown into this live television situation, far removed from news.
And we came down to the beach, places like Glenelg, all along the coast. The girls entered on the day and I would talk to them about what they wanted to do and check the pronunciation of their names, and they paraded on the catwalk.
We asked them some questions about their hobbies and whatever – inevitably answers like riding horses and becoming an actress – and we all had fun and gave away free ice-creams and drinks.
It was a great commercial opportunity to promote soft drinks and ice-creams, suntan cream, and it gave, during that summer recess of programming, the channel – in this case, Channel 9 – cheap local programming.
Mike concluded by saying, "Obviously today a Miss Beach Girl Quest would be probably frowned upon. But it was innocent. Girls on the beach wear far less than they used to back then, topless bathing and so on. So I don't think it was a sexy exploitation of women. The girls wanted to do it. There was a bit of liberation in those days. They made their own choices. And…almost a mix between a little bit of liberation and innocence, because that's all it was".
Do you remember those times of the beach girl quests?