From January 2014
I saw this photo of kids hanging upside down on monkey bars and I was remembering back to schooldays, playing outside on the swings, slippery dips, see-saws and other equipment that, from memory, seemed to have very little thought put into the safety aspect. I can recall doing this (you probably can too), hanging upside down from the monkey bars, climbing to the top of the climbing bars, jumping off the hurdy-gurdy, swinging as hard as you could on a swing and jumping off at full height because somebody 'double dared' you. I came off the monkey bars once and landed on the back of my head, came off my bike a dozen times and landed once on my face….I recall a school friend of mine breaking his arm in the playground, but by and large most of us got through without too much damage.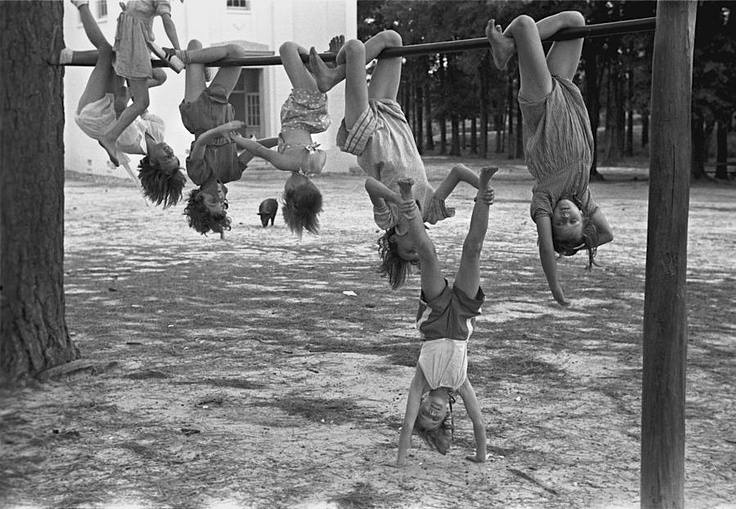 From January 2014
Mark Lance shared a photo; "My EK Holden parked in front of the old Morphett Vale general store, which is now in Old Tailem Town." Thanks Mark. Great photo which I'm sure will stir some old memories not just of the Morphett Vale General Store but those times when every town and suburb had a corner shop or 'general' store that sold everything from boot laces to lollies and petrol.
It's fascinating how run down the little store looks, in need of a coat of paint and somebody to do a bit of weeding. The public telephone box is needing a bit of paint too, but funnily enough it's exactly how things were in that era, not really rundown, just well used, usually friendly and reliable.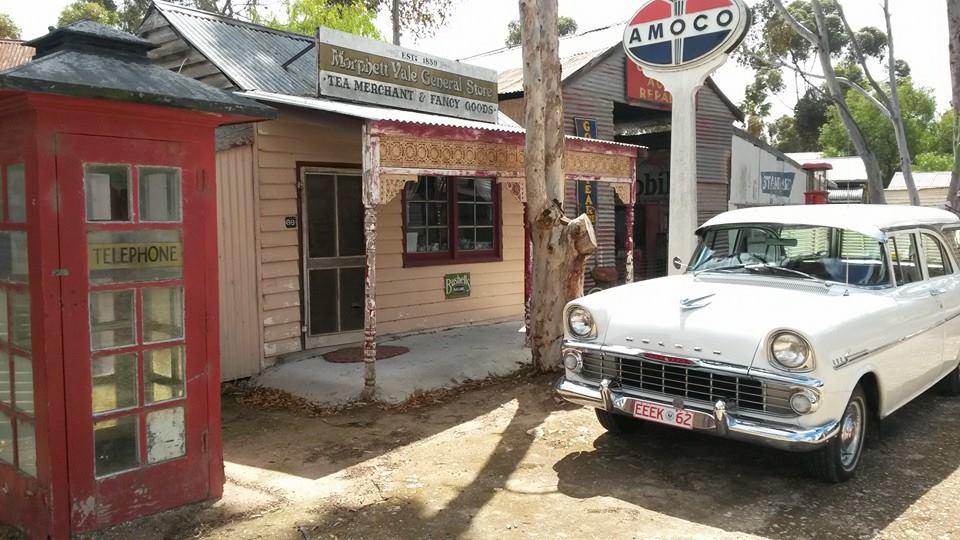 From January 2014;
I wonder how many people will remember Ron Sullivan?
Ron was an announcer at Radio 5AD during the real heyday of radio, the 50s. I can recall listening to Ron throughout his career on radio, as my parents listened to 5AD most of the time.
I have a feeling he mostly did the very important night time programmes, which is when most audiences tuned in to listen to the radio dramas. I believe he became programme director of the station before leaving some time in the 60s to become marketing manager of John Martins and in that role compered and conducted many major events around Adelaide, including the opening of the Arndale Shopping Centre in 1963. He was also well known for his annual hosting of the Anzac Day march on the ABC with Bob Caldicott and as an ex-serviceman had a wide knowledge of the march and the various participants.
I met Ron quite a few times at various functions and remember our last meeting in the early 80s, briefly chatting at a function at the Hotel Australia when he told me had lung cancer. He was a great ambassador for John Martins for many years, a fine radio announcer and a true gentleman!
Photo is from the State Library of SA and shows (from left to right) Ron; Fat Cat; Ian Millbank, Multiple Sclerosis executive director; Derani Ross, Melissa Librandi, Tobi Harris.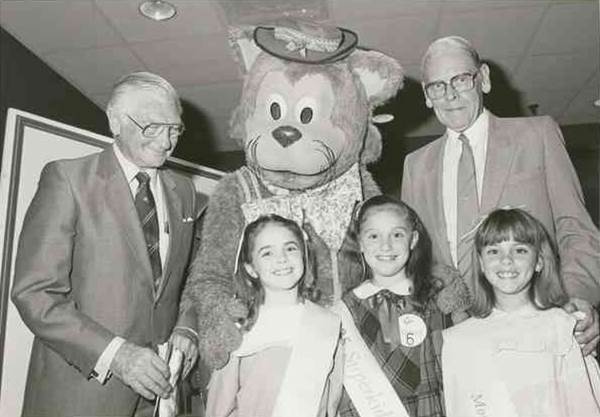 From January 2014;
Remember when Service Stations offered service?
It's been years since bowser boys filled up our cars, washed the windscreen and checked the oil and tyres. Recently the NRMA in NSW polled its members and asked whether customers would be prepared to pay a bit extra for petrol in return for old fashioned service. Of the 1200 people surveyed, all of whom were NRMA members, 51% said they believed society has lost the notion of good-old-fashioned service and 70% of people said they would pay more for better service.
NRMA spokesman Peter Khoury said "There's nothing wrong with the type of service we got back in the 50s" He said the response from customers at a petrol station in the eastern Sydney suburb of Rose Bay – where the campaign was launched – was extremely positive. "For the first time in a long time motorists are actually walking up to the counter of a service station with a grin on their face as they are paying for petrol," he said.
This fantastic photograph from 1955 shows the Lord Mayor of Adelaide, Mr. J.S. Philp watching attendant Frank Patten of the Beulah Park Ampol service station refuel his car. Thanks to Shadels Retro Vintage Blog on South Australia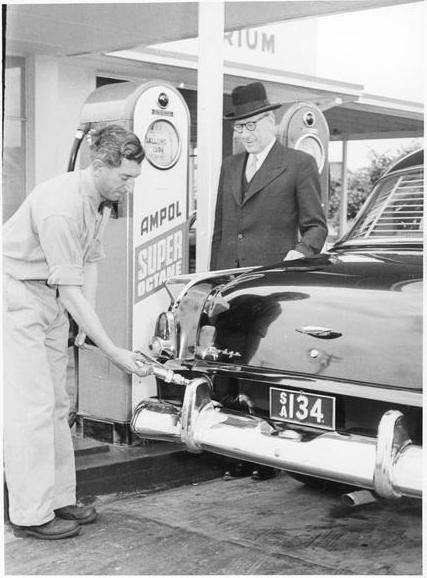 From January 2014
Saturday's Advertiser carried the story of the re-opening of Trims, a name that's been synonomous with clothing retail sales in Adelaide for 75 years!
It's a new shop with new stock etc, but it got me remembering some of the other retailers whose names are stuck in my head and maybe we should do a whole series on them.
Thwaites, is a name I remember, and 'Thwaites Corner' was on the corner of Rundle and Pulteney Streets all through our growing up years. Who could ever forget their slogan on radio and TV, "Men Swear by Thwaites for Men's Wear".
There's a Telstra shop on that corner these days, and Rundle Street is now Rundle Mall but here's a photo from 1951, looking west from the corner of Rundle Street and Pulteney Street. Thwaite's Corner is located on the south west side and Coles and National Bank can be seen along the northern side of Rundle Street.
This photo thanks to the State Library of South Australia.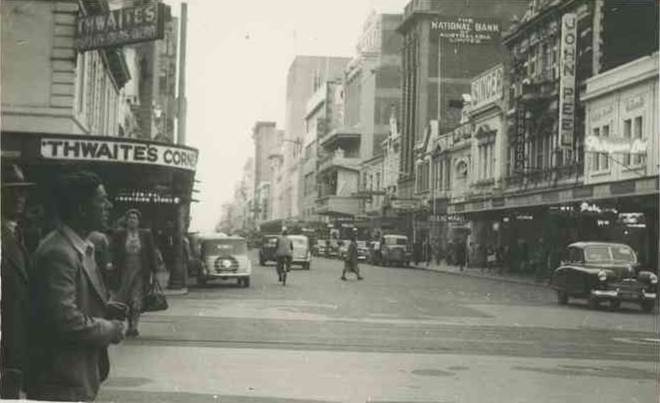 From January 2014;
Shaun Minahan is seeking help: "HELP! FAT CAT LOVERS!!!
An album was released to coincide with Channel 10's Telethon, called "Songs for Hope and Happiness". If my memory serves me correctly, the picture on the cover of the album had Fat Cat on it, with various presenters and singers and a young lady in a wheelchair. I think her name was Kylie. However, can anyone confirm that the colour of Fat Cat's fur on this album was grey, not the well known orange/ginger? I'd love it if someone could PM me a pic of the album cover or post on this page". Thanks Shaun.
Dave Rein has replied and sent in the photo below; "Definitely grey on volume 2 & 3. This is volume 2 in the photo. Not sure about volume 1. I wonder though if it isn't the way the photo was developed. I believe the girls name was Debbie Clarke. Have had no confirmation on that yet. I wonder whatever happened to her".
Most people will still recall Fat Cat's involvement in the Channel 10 Telethons for the Children's Medical Research Foundation which was mentioned in a post leading up to Christmas.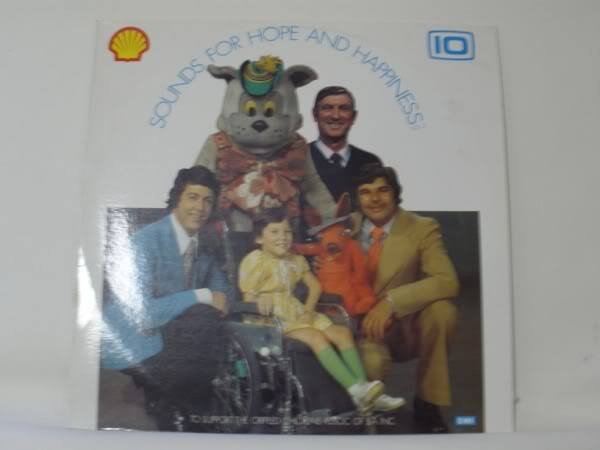 From January 2014;
Remember going to the pictures and when the lights went out, the national anthem "God Save the Queen" was played, during which we had to stand? Then it was time for the newsreel, generally followed by the first picture.
Both newsreels of the pre-television era, 'Movietone News' and the Australian company, 'Cinesound Review' had iconic opening title sequences. Movietone News always began with the laughing kookaburras while Cinesound Review had the kangaroo. The fanfare music accompanying the opening would have been as familiar to picture theatre goers then as the theme to television news is to audiences today. There were few changes over the period from 1929 to 1975 and the openings and presentation stayed pretty much stayed the same!
Newsreels were an important source of news and current affairs in the days before television, and formed an integral part of an evening at the pictures.
The Bill Hunter film Newsfront, which was made in 1978, was the story of the newsreel film industry and showed how the stories were captured on film and and turned into the 5 to 8 minute newsreels, complete with voice over. Photo thanks to Australian Screen.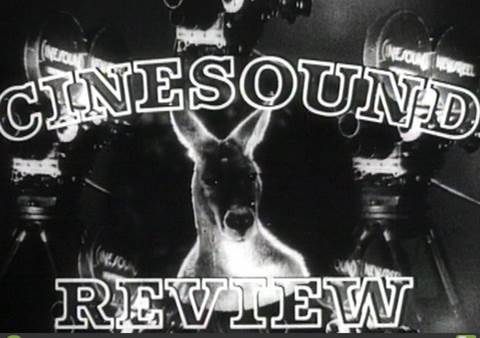 From January 2014;
Steve Arnd shared a photo of Glenelg; "Glenelg Beach, late 70's – rare photo showing the "sideshows" I've been looking for a very long time for sideshow photos – if you have any, please post."
Hey thanks Steve, another great photo of the bay before all the changes.
Steve's last photo of the old Glenelg car park went viral and recorded over 45,000 views and received almost 2,000 post 'likes' and 330 comments.
This is another great photo, looking back towards the beach to the sideshows, and I think will bring back lots of memories for many Adelaideans.
Just shows how much that whole area has changed!