THERE was a time when downtown Adelaide was home to a large number of substantial department stores. Many had commenced trading in the mid to late 1800s and most had disappeared into history by the end of the 20th century.
As a child growing up in the middle of last century, chances are you will remember going shopping with mum or grandma to at least some of the stores mentioned below.
BIRKS DEPARTMENT STORE
Birks started out as a small drapery shop in Hindley Street in 1864 and after just a few years moved into newer and bigger premises on the corner of Rundle Street and James Place.
By 1913 the business found itself expanding again, this time purchasing several adjoining properties and creating a grand new emporium which housed a drapery, tailors, clothiers and boot importers. Over the next 40 years Birks became a highly respected retail institution in Adelaide and traded successfully in Rundle Street until it was bought by David Jones from Sydney in 1954.
It continued to operate under the Birks name for another decade but in 1968 the original building was demolished and completely redeveloped to become David Jones.
J. CRAVEN AND CO.
John Craven and his partner William Armstrong commenced operation in 1886 as Craven and Armstrong but in 1912, with Armstrong's retirement, the shop became known as J Craven and Co.
The new department store, on the corner of Rundle and Pulteney Streets, developed a reputation for value and John proved a canny businessman, travelling to London and Europe where he purchased direct from factory outlets in substantial quantities, offering goods in his Rundle Street establishment at low cost, which in turn ensured fast turnover and quick profits. When John died in 1932 the business was taken over by his son Thomas. By then it had become a very large retail organisation boasting four floors .
Cravens ceased trading in the early 1970s and the building was demolished to make way for the Centrepoint Shopping Centre.
FOY AND GIBSONS
Foy and Gibsons had started out in 1883 in Collingwood, Victoria, before expanding to Sydney and then Perth.
By 1907, Foy and Gibsons established a South Australian branch in Rundle Street but in a bold move in 1924, took over the former Grand Central Hotel building on the south eastern corner of Rundle and Pulteney Streets, directly across the road from Cravens. The Grand Hotel, as its name implied, was indeed a grand and imposing building. It dominated the skyline in Rundle Street, rising five storeys and making Foy and Gibsons the most prestigious department store in Adelaide. The company was eventually sold to Cox Brothers which became known as Cox Foys and moved to new premises further west along Rundle Street. The former Grand Central Hotel building was demolished in the 1970s to make way for a carpark.
HARRIS SCARFE
The first Harris Scarfe hardware and general merchant business opened in Hindley Street in 1860 but in just a few years had moved to new and larger premises in Gawler Place.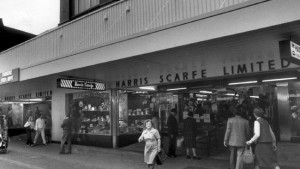 For decades the company dealt mainly with hardware, machinery and metal and built a reputation of being able to supply "anything from a needle to an anchor". In 1922 the company moved again, this time to Rundle Street and at the same time expanded to become a major department store. The firm then traded in the same location for almost 90 years, carving out a particular retailing niche in the city. In 2011 Harris Scarfe's Rundle Street store closed, the old building was demolished and the site completely redeveloped.
Harris Scarfe's is now a new, modern structure and the company has grown to own more than 40 stores around Australia employing over 2,000 permanent staff.
JOHN MARTIN'S
On 24th of October 1866 a tiny drapery business, Peters and Martin opened its doors for the first time in Rundle Street on the site that would eventually become known as John Martin's, The Big Store. Messrs Hayward and Chambers joined the small company in 1878 and the next 50 years saw considerable growth. In 1923 an advertisement described John Martin's as "drapers, tailors, clothiers and general merchants".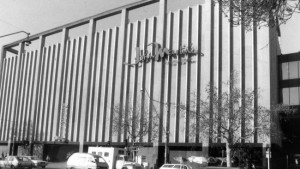 After a major fire in the mid-1930s John Martin's underwent an extensive redevelopment program, which then saw the retailer remain mainly unchanged for the next 60 years.
Johnnies became Adelaide's most famous store through the annual staging of the John Martin's Christmas Pageant and for its equally famous Magic Cave. Generations of Adelaideans still have wonderful memories of their childhood years growing up with these two iconic institutions.
By the mid-90s, with the retailing landscape undergoing significant changes in Australia, John Martin's began experiencing financial difficulties and was sold to David Jones. In 1998, much to the horror of the many thousands of loyal customers, the big store was demolished and redeveloped as a new modern shopping complex for DJs.