Just recently I came across a newspaper article (from a website called "Johnny's Pages"), which was written and published in the early 90s. It posed the question; "Was life better in Adelaide in the 50s"?
It got me thinking about the way we live today, how hectic and complicated life can be with all the new technology and the different pressures we face in these modern times, so let's ask the question today in 2014…..Was life better in Adelaide in the 50s?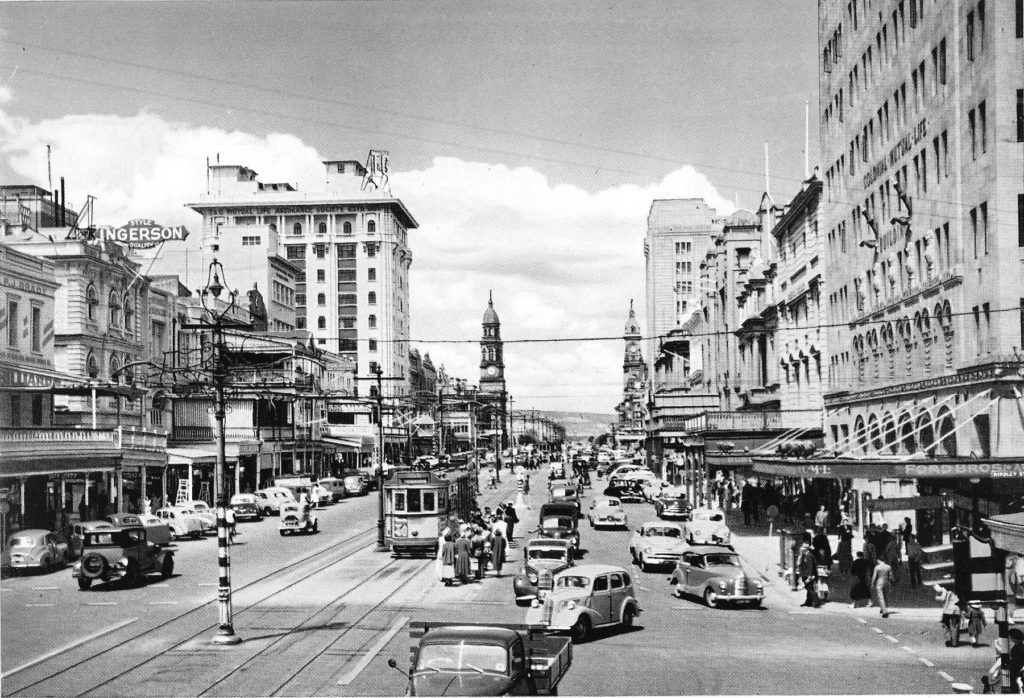 The writer of the original article, who was not named, had written the piece as a tribute to his Uncle Bill who had just died at the age of 91. Most of us probably had an uncle just like Bill, a true gentleman, courteous, kind, old fashioned, a little sad and perhaps a little weary.
Uncle Bill had lived when times were simple and the values that were held were different, values that many younger people of today would not recognise but which a baby boomer may well remember. Like Uncle Bill most of our parents, aunts and uncles had lived through a depression and a world war and those two events shaped their lives, opinions and those values which they tried hard to instil in us, their children.
Uncle Bill had been married for 45 years to the same woman, Auntie Phil, who died in the 80s. He then lived alone for the rest of his life. The most important issues for him were, doing the right thing for his wife, for his neighbours, the Empire and King (later Queen), the Liberal Government, for rural industries, he was concerned about Communism, remained staunchly faithful to his religion and always displayed impeccable manners. A living museum from a different era.
When Uncle Bill and Aunty Phil went to town (the city) they travelled on public transport, he always wore a hat and she would be dressed in her Sunday best, including hat and gloves. They would have lunch at Balfours Tea Rooms in Rundle Street, shop at John Martins, he bought his trousers at Fletcher Jones and drank Southwark Bitter, all banking was done at the Savings Bank of South Australia and any meagre savings were carefully invested in the Adelaide Steamship Company. They drank Woodroffe's Lemonade and ate Amscol Ice Cream.
He attended the Anzac march every year and played two-up with his mates, went to Johnnies Christmas Pageant, swam at Glenelg beach during an Adelaide summer, remembered the great heatwave of 1939 and drank at the South Australian Hotel on North Terrace.
He and Aunty Phil lived in a simple two bedroom house in Lockleys, sadly, never had any children, knew all their neighbours but never socialised with them, went to church every Sunday, became members of the Good Neighbour's Council, spoke to people with respect and accepted their place in the society in which they lived.
He was not street smart but was generous, courteous, good humoured and loved a good laugh, provided it wasn't at the expense of someone else. He also believed the world was a happier place in the 50s
Often on the Adelaide Remember When FB page or blog people will make the comment, "bring back the good old days".
Remember the 50s also had its dark moments. There was the cold war, a polio epidemic, medicine was not as advanced and many died in circumstances that would not exist today. Safety standards weren't enforced, women were not given the same opportunities and racial discrimination was accepted as the norm.
Certainly the 50s were a more innocent time, people seemed to be in less of a hurry and have a lot more time and actually spoke to each other. There was respect but it was also far more restrictive and there was less freedom than what we demand of our society today.
But what do you think, was life better in Adelaide in the 1950s?