Remember when we referred to George as a gorilla?
George was an orang-utan and was always one of the most popular animals at the zoo, but growing up as kids, we always talked about him as a gorilla.
He was a real character whose favourite possessions were his old hessian bag and an Australian Rules football. He also used to like a smoke and was known for a couple of other antics including masturbating, peeing at people in front of his cage and throwing his poo into the crowd. He would throw out the hessian bag in front of his cage and people would throw peanuts, lollies and other treats onto the bag, which he would then drag back in for a feast.
Stories abound about George, including one of the night he escaped through his unlocked door and climbed a huge tree within the zoo grounds. Hoogen, who was his keeper at the time, had to rush to the zoo to talk him down. George climbed down the tree and hand in hand walked back to his cage.
George died in 1976 and his bones are now housed in the old elephant house near the Elephant Interpretation Centre.
It saddens me now to think back and contemplate the solitary and miserable existence it must have been for George, locked up in a cage for most of his life and unable to mix with his own species. Thankfully zoos today have come a long way and now take an animal's psychological health as well as physical well-being into consideration when creating enclosures.
PERCY THE CHIMP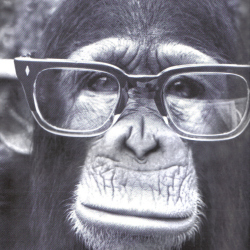 Percy the chimpanzee was both cheeky and lovable and entertained zoo crowds in the 60's. With his brother William, he had been hand raised by Violet Adkins for 14 months when his mother was unable to care for him. This early association and closeness with humans made him even more of a rascal and endeared him to everyone who came in touch with him. Violet, wife of Charlie, head keeper of the Adelaide Zoo through the 1960s, also hand raised lions and tigers.
NEWSBOY THE HIPPO
Newsboy the hippopotamus turned out to be a great attraction after his arrival in 1934. He was bought for a mere 175 pounds, raised through an appeal by the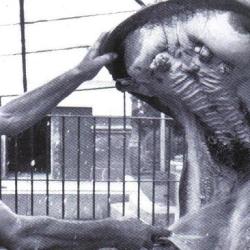 Adelaide afternoon newspaper The News, and replaced the zoo's previous hippo which choked on a golf ball thrown by a visitor.
A PAIR OF TORTOISES … (TORTI?)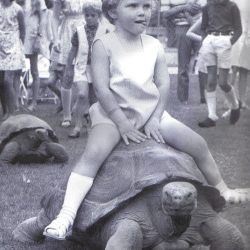 A pair of Galapagos tortoises arrived from San Diego Zoo in 1972 and tortoise rides became standard entertainment for child visitors. It probably would not be considered as 'best practice' these days, but hundreds of kids from that era can look back and remember their day at the zoo which would include a tortoise ride on the giant Galapagos tortoise and a ride in Samorn's elephant cart.
(Also read "Samorn the Elephant in our Zoo; http://www.adelaiderememberwhen.com.au/tag/samorn/)